Explore a free world of entertainment
Samsung TV Plus
Free TV, no strings attached. Just tune in to Samsung TV Plus to enjoy free live and on demand content. Choose from news, sports, entertainment and more. No downloads, sign-ups, credit cards, subscriptions or other devices required.
*Content services may vary by regions and are subject to change without notifications.**Requires internet connection. ***Separate subscriptions may be required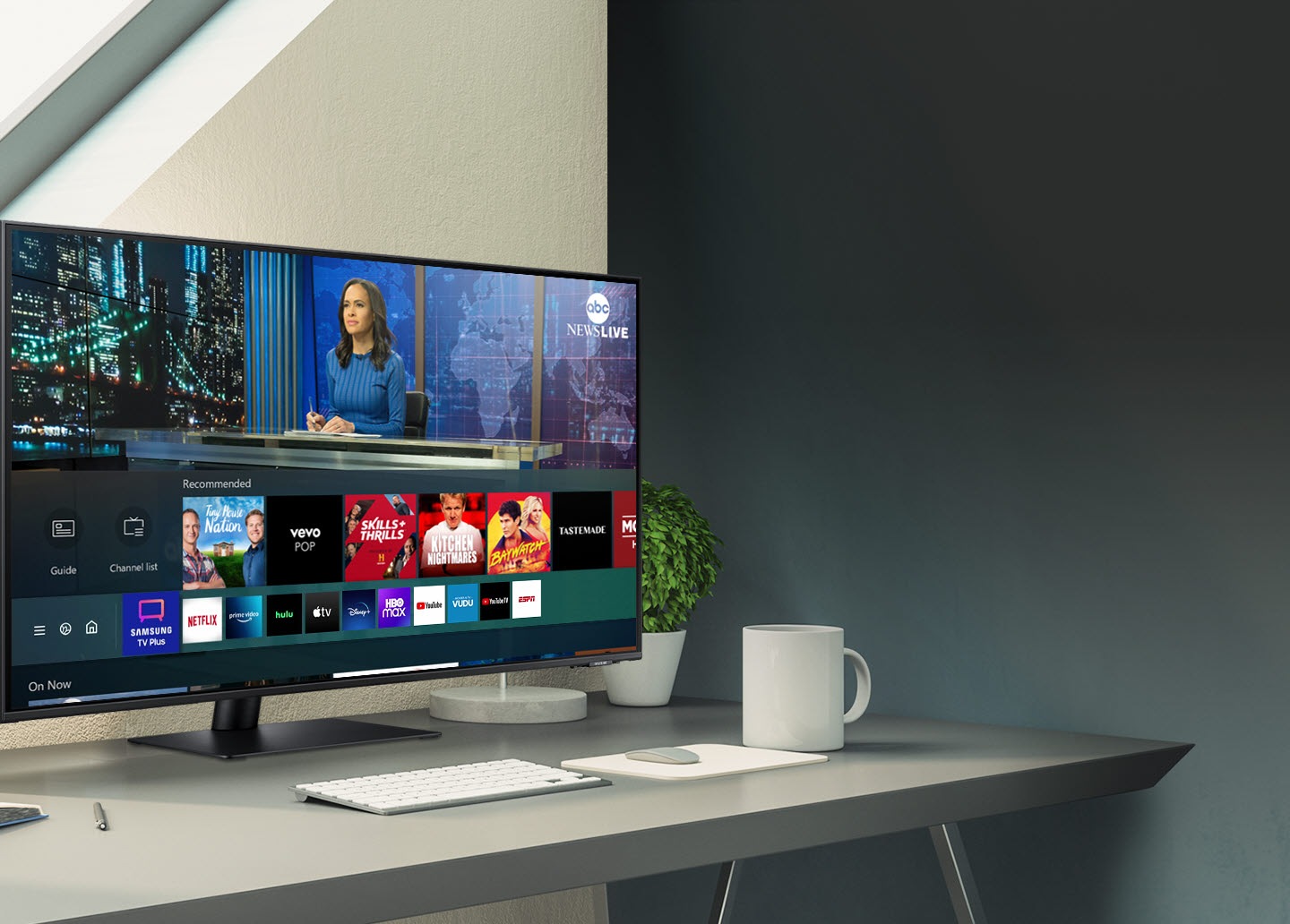 Connect with convenience
USB type-C
The USB type-C port enables you to power up, transmit data, and even send display signals between devices with just one connection. Its single connection architecture brings an enjoyable work environment that's both clutter-free and stress-free.
Mobile meets big screen
Mobile Connectivity
Wireless DeX unlocks a full PC experience, without any PC. Use mobile productivity apps, such as video conferencing, documents, and browsers, through just your monitor and phone. To see photos or watch movies on the big screen, just tap it with your phone using Tap View.
* Wireless DeX supported on selected Galaxy, Note, and Tab devices. (More details on the FAQ page: https://help.content.samsung.com/csweb/faq/searchFaq.do)** Limited to selected apps and may require license purchase*** On-screen content simulated for demonstration purpose
Connect to the world's first AirPlay 2 - enabled monitor
AirPlay 2
With a first-of-its-kind AirPlay 2 integration, use Apple devices to work and play on the big screen. Improve workflow by creating a wireless dual monitor setup with your MacBook and Smart Monitor. When it's time to relax, effortlessly enjoy videos, music, photos, and more from your iPhone or iPad.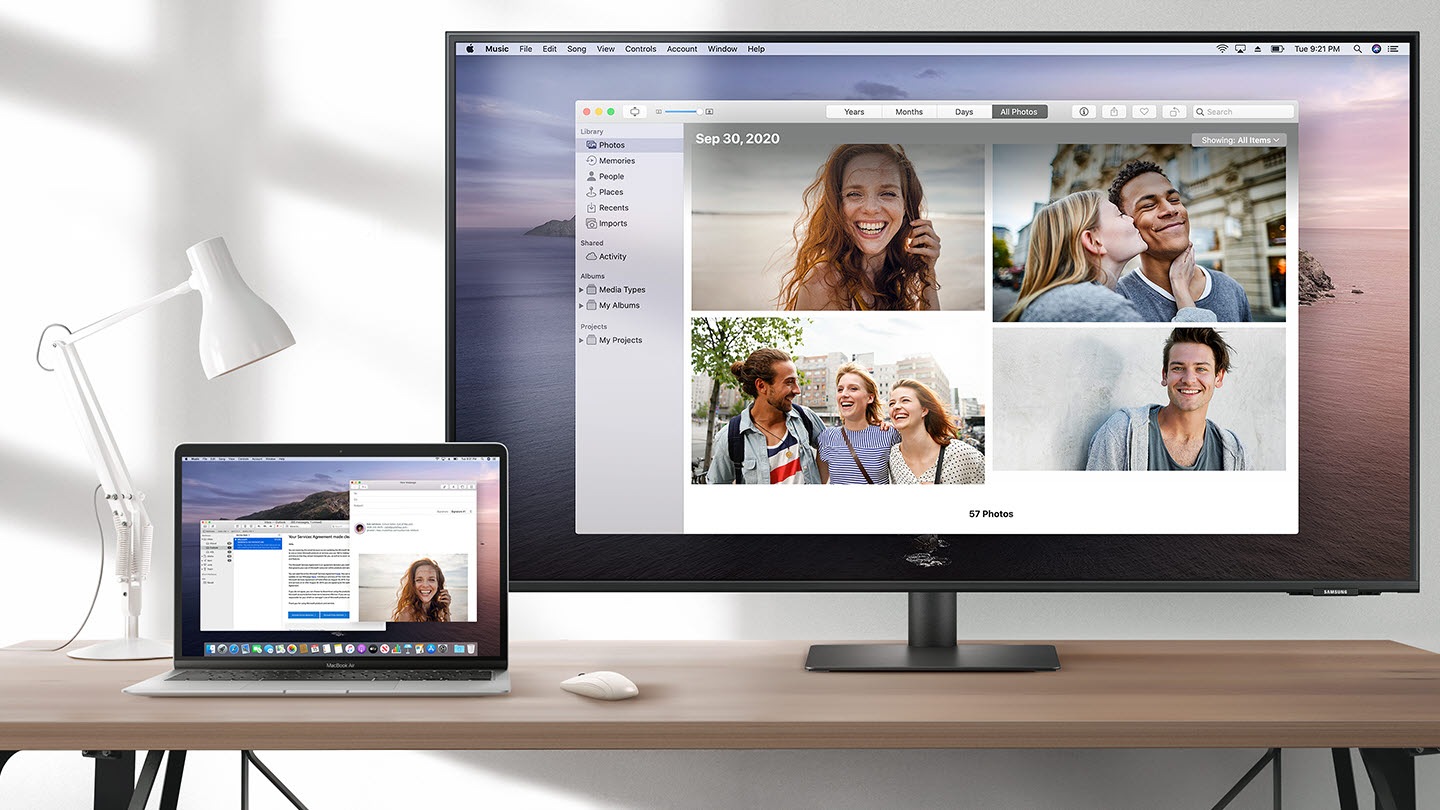 Work and learn from a distance
PC on Screen
Work seamlessly from anywhere. Boost your productivity with PC on Screen features. Using the Microsoft 365 suite, view and edit documents, and conveniently save them all on the cloud. Even while at home, Easy Connection lets you work remotely on your school or office desktop.
* Windows 10 Pro, Mac OS 10.5, or higher, and compatible network settings are required for this feature** Microsoft 365 requires Microsoft account*** On-screen content simulated for demonstration purpose**** 'Remote Access' feature will be upgraded to 'PC on Screen' as of June 2021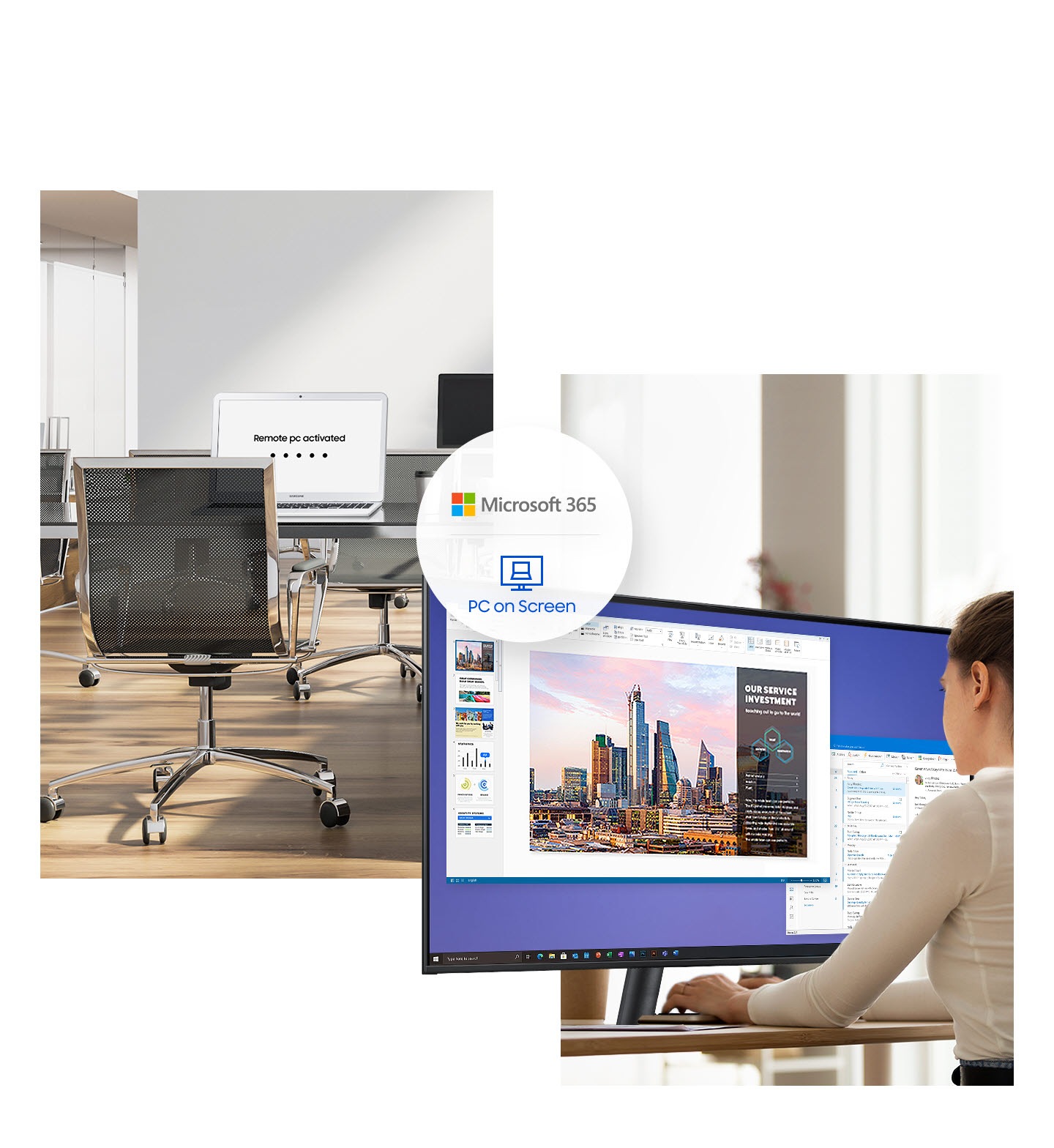 Optimal brightness for any ambience
Adaptive Picture
Sensational picture, day or night. Surrounding light is detected by a sensor to adjust brightness automatically with Adaptive Picture. Even in broad daylight, watch dark, gritty dramas without squinting and straining your eyes to see the picture.
Just say "play" to play
Voice Assistant
Your monitor listens to what you tell it. Switch between apps, control videos, and more through the Voice Assistant or SmartThings app.
* Remote control specifications may vary by country
Plug and see
Auto Source Switch +
No more switching around. With Automatic Source Switch Plus, your monitor detects and switches to newly connected devices as soon they're plugged in. When jumping into your favorite video game, simply connect the console with no additional connection needed, and get straight into the action.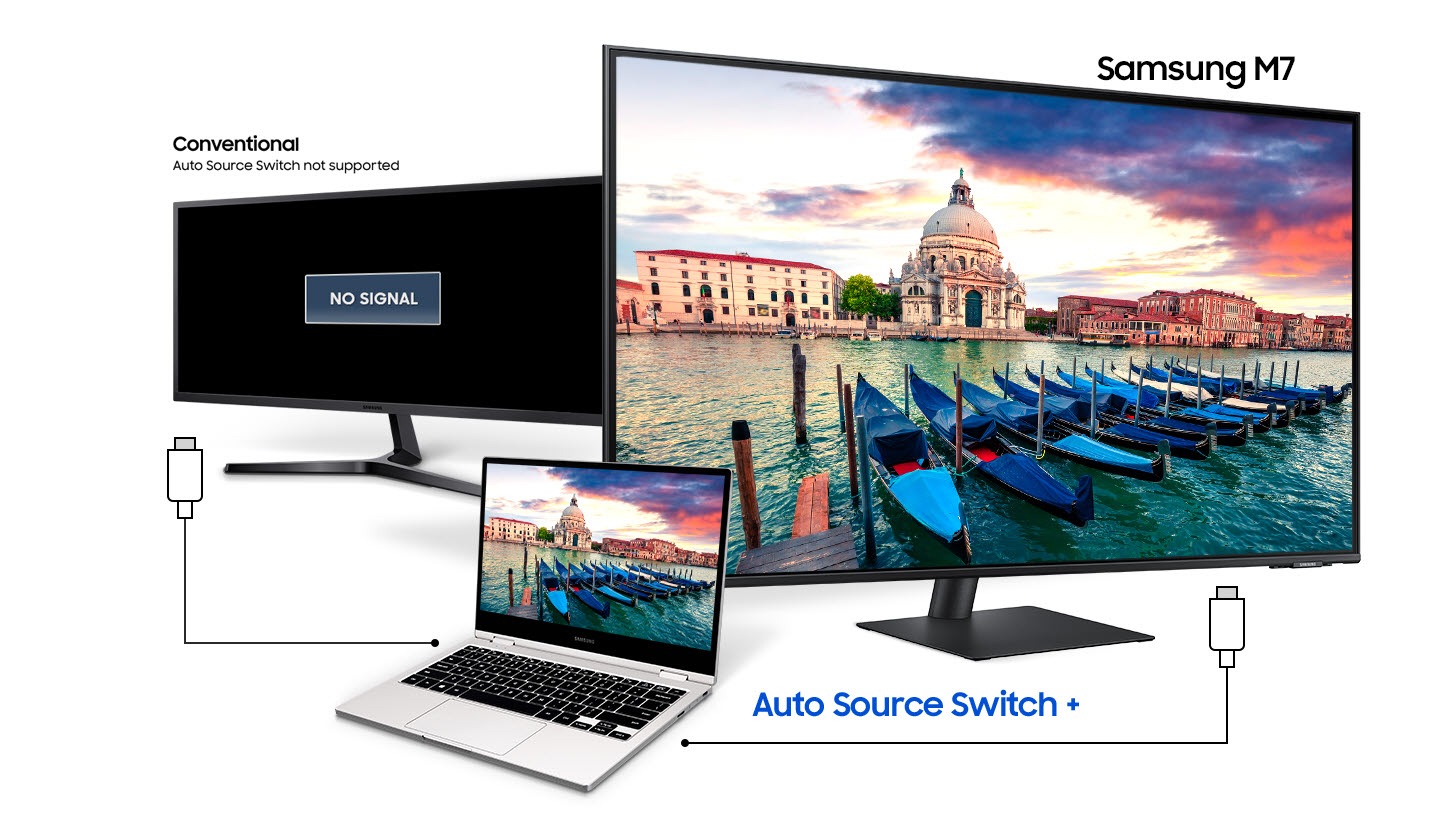 Eco-friendly efficiency
SolarCell Remote
Say goodbye to disposable batteries. With a solar-powered, all-in-one remote included, the Smart Monitor delivers eco-friendly efficiency with charging from indoor sunlight, lightbulbs, or a USB-C connection. The remote hasbeen partially crafted from recycled plastic for enhanced sustainability.